Ukraine's president has told Sky News he is "very happy" and "thankful" that Germany has decided to supply 14 Leopard 2 tanks – but warned the quantity and delivery time of the vehicles is "critical".
Speaking in an exclusive interview with Kay Burley, Volodymyr Zelenskyy thanked allies around the world for their continued support following Russia's invasion of his country.
"I would like to say thank you to Germany, to Britain and to the United States that they made this decision," he said.
"Overall I am very thankful to the world for the support for Ukraine. But speaking frankly, the number of tanks and the delivery time to Ukraine is critical."
Ukraine war – latest: Russia sends warning to US over tanks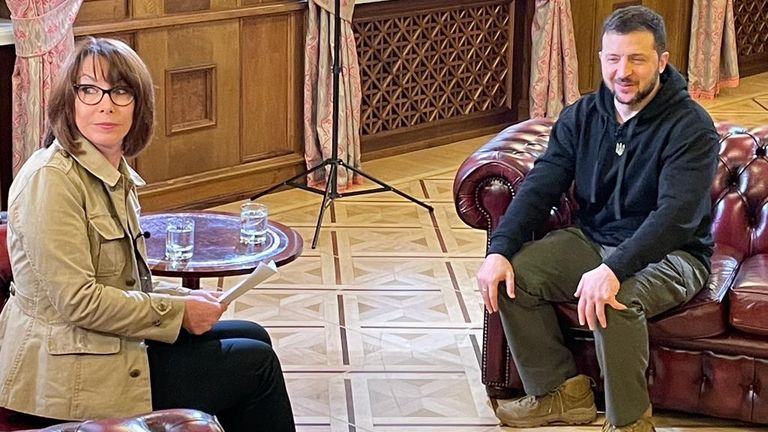 President Zelenskyy's remarks come after Germany confirmed it would send the Leopard 2 tanks to Kyiv and authorised partner countries to also send them – despite threats from Russia.
Read more:
Germany to send 14 Leopard 2 tanks to Ukraine
The move means other countries – such as Poland and Spain – which have stocks of the NATO-standard tank can now supply them to Kyiv.
Yesterday, Moscow warned Berlin that sending tanks "does not bode well for future relations" – and told the US that should it authorise such a move, it would be a "blatant provocation".
The Russian embassy in Berlin condemned the move as an "extremely dangerous decision" and an "escalation" of the conflict.
:: Watch the full interview on Sky News tomorrow