Germany's Chancellor Olaf Scholz has been under pressure to allow NATO allies to send the tanks ahead of a suspected spring offensive. /Tobias Schwarz/AFP
Germany's Chancellor Olaf Scholz has been under pressure to allow NATO allies to send the tanks ahead of a suspected spring offensive. /Tobias Schwarz/AFP
TOP HEADLINES
· Germany has given permission for its Leopard 2 tanks to be exported to Ukraine by partner countries. In a move to support Kyiv's war effort German Chancellor Olaf Scholz, who holds the export rights to the tanks, told the Bundestag, "we must prevent the war from escalating into a war between Russia and NATO." READ MORE BELOW
· In an immediate response the Russian embassy in Berlin issued a statement accusing Germany of escalating the war to a new level and abandoning its "historical responsibility to Russia."
· Finland and Poland confirmed they will send Leopard 2 tanks to Ukraine, while France and the UK welcomed the move that will be supported by tanks and armored vehicles from their ranks.   
READ MORE: Why does Zelenskyy want Western tanks?
· Ukraine's troops have pulled out of the town of Soledar in the eastern Donetsk region, which Russian forces said they captured earlier this month, Kyiv confirmed.
· Russian forces, including units of the Wagner mercenary group, have advanced in Bakhmut, a town in eastern Ukraine, according to separatist official.
· The U.S. is poised to start a process that would send dozens of M1 Abrams tanks to Ukraine, two U.S. officials told Reuters but experts say it will take months until they are operational.
· The U.S. mission to NATO has accused Russian President Vladimir Putin of giving the order to "rain bombs" on Ukraine on New Year's Eve. It tweeted "Russia remains the sole obstacle to peace in Ukraine. Ukraine is the victim of aggression and they have the right to defend themselves."
· Spanish police have arrested a suspect in the letter bombing campaign that targeted the prime minister and the Ukrainian embassy, authorities said.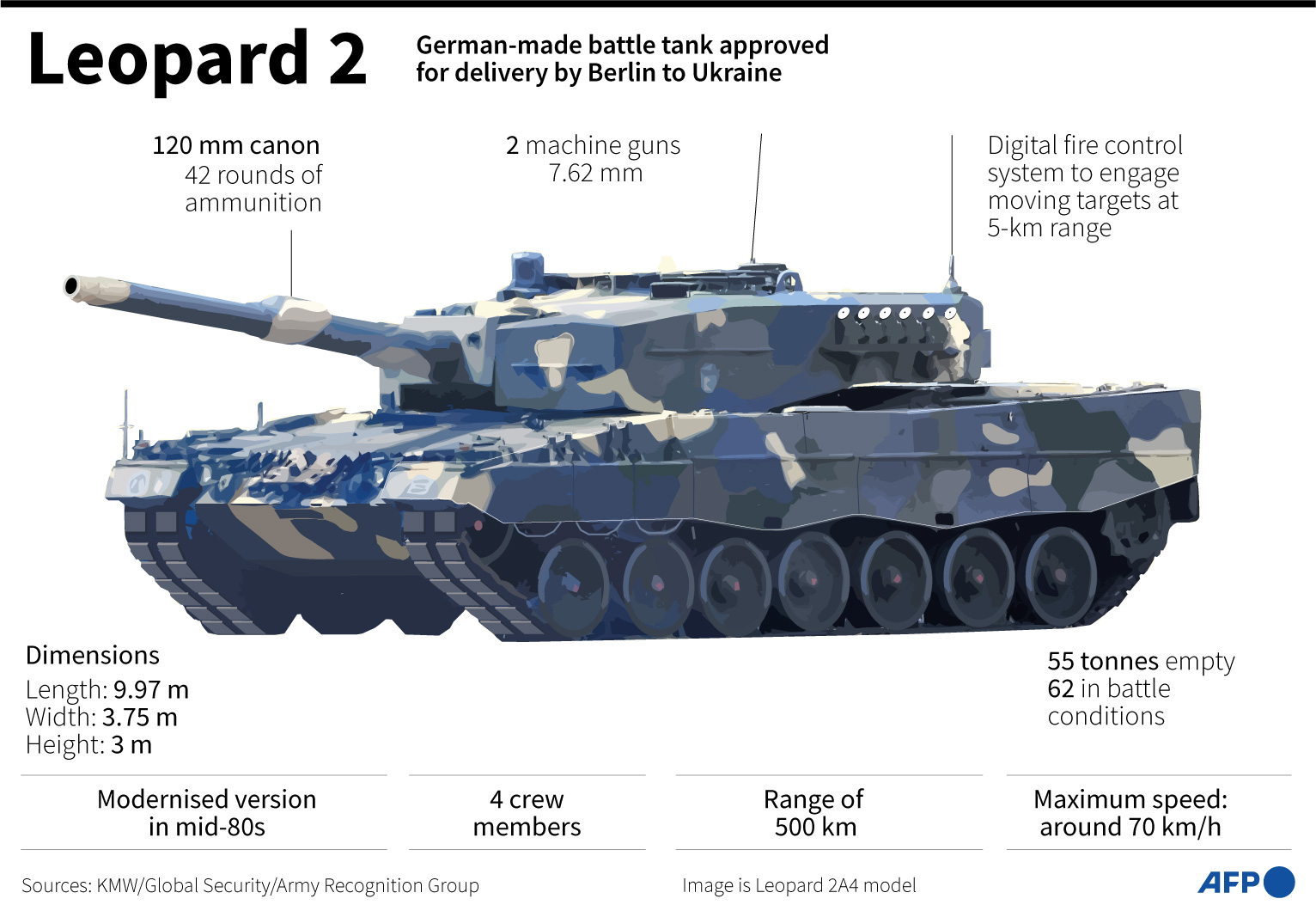 The Leopard 2 tanks at the center of the story. /Paz Pizarro, Guillermo Rivas Pacheco/AFP
The Leopard 2 tanks at the center of the story. /Paz Pizarro, Guillermo Rivas Pacheco/AFP
IN DETAIL
Germany finally agrees Leopard 2 tank exports
Germany said on Wednesday it would supply its Leopard 2 tanks to Ukraine, overcoming misgivings about sending heavy weaponry that Kyiv sees as crucial to defeat the Russian military operation but Moscow casts as a provocation.
Germany's decision paves the way for other countries such as Poland, Spain, Finland and Norway to supply some of their Leopard tanks to Ukraine, going some way towards delivering the hundreds of tanks that Ukraine says it needs, especially if the U.S. follows suit.
"This decision follows our well-known line of supporting Ukraine to the best of our ability. We are acting in a closely coordinated manner internationally," German Chancellor Olaf Scholz said in a statement.
The goal was to quickly establish two battalions with Leopard 2 tanks for Ukraine, Scholz confirmed, adding that Germany would initially provide 14 Leopard 2 tanks from its own inventory.
In a scathing statement, the Russian embassy said that the tank deliveries would escalate the conflict to a new level and lead to "permanent escalation."
"This extremely dangerous decision takes the conflict to a new level of confrontation and contradicts the statements of German politicians about the unwillingness of the Federal Republic of Germany to be drawn into it," Ambassador Sergei Nechayev said.
"It destroys the remnants of mutual trust, causes irreparable damage to the already deplorable state of Russian-German relations, and casts doubt on the possibility of their normalization in the foreseeable future," he added.
Source(s): Reuters
,AFP