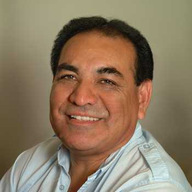 My father was drafted during World War II but did not pass his medical examination. He nevertheless endeavored to follow the war in the news. Since he only had three months of formal education, father worked hard to put letters and sounds together and learned to read newspapers in Spanish. His level of interest was heightened by the fact that there were other members of the family fighting the Germans and Japanese.
The Rio Grande Valley of Texas has many towns and Spanish speaking communities whose kids made the ultimate sacrifice. Father lived the war with the constant wailing of grief in every barrio that saw families mourned the death of their sons.
I remember a moment decades later after I had completed my military service, when I came home with a Master's Degree from graduate school. I gave my father the great news that I had been invited back for a doctoral degree program. At first he reacted with confusion since he thought that I would go to work after so much study. Then he thought for a moment before saying that he was glad because it meant that I was not going to "el frente" meaning "the front lines."
The Vietnam War was still going on and father could still hear echoes of mothers and families crying for their World War II dead. It was a sobering moment to learn that he would carry that memory until he passed away.
It is estimated that 80 million military and civilian people died and an untold count of injured around the globe in World War I and II. Added to this was the great number of casualties in two major Asian wars that were Korea and Vietnam.
The four 20th Century wars were fought with draftees. Vietnam was the breaking point for the citizen soldiers that had to fight abroad while a large segment of the American people did not believe in what they were doing.
Before Vietnam, dying for your country was an unquestioned honor. After Vietnam, that honor was tainted by the tone of ungratefulness and disrespect on a large part of a nation that saw little value in the blood sacrifice of our young.
Also, after Vietnam the American military had to reinvent itself in order to leave behind the results of a war that drained so much of its credibility and morale. The advent of an all-volunteer professional military can be tied directly to that time in history.
In the 1990s when my son decided on a military career, I was happy that it was peacetime and that he could developed his leadership craft without the bullets, bombs and death that characterizes war. Then 9/11 came and he found himself in new wars both at home and abroad.
It seems that war is always around the corner trying to attract our attention and interest. The Russian attack on Ukraine is a great example of that possibility lurking in the shadows.
The Russian-Ukraine conflict also represents the completion of a circle that brings us back to my father's notion of "el frente." Two armies are engaged in desperate battle along clearly marked lines.
Like in the great wars of the 20th Century, the struggle is between democracy and authoritarianism. The democracies have decided to stand with Ukraine and support its epic struggle against Russian remnants of the old Soviet Union.
This time our military is not actively fighting. Yet, it feels as if we are fighting the same war here at home.
The views expressed by David Conde are not necessarily the views of la Voz bilingüe. Comments and responses may be directed to [email protected]