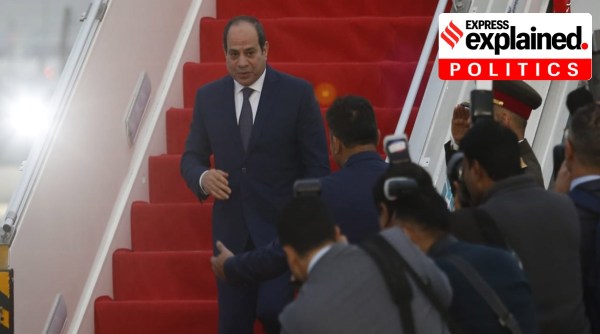 Egypt President Abdel Fattah El-SiSi arrives at the Palam Air Force station in New Delhi on January 24. (Express photo: Anil Sharma)
What is El-Sisi's schedule in India?
Sisi will be accorded a ceremonial welcome at the Rashtrapati Bhavan on January 25, and President Droupadi Murmu will host a State Banquet in his honour the same evening.
Sisi will have a meeting and delegation-level talks with Prime Minister Narendra Modi on bilateral, regional and global issues of mutual interest. External Affairs Minister S Jaishankar will also call on President Sisi. The visiting dignitary will interact with the Indian business community at an event on the same day, according to the Ministry of External Affairs.
The Minister of Defence on January 22 announced that 17 states and union territories, such as West Bengal, Assam, Arunachal Pradesh, Tripura, and Jammu & Kashmir, will display their tableaux at Kartavya Path for the Republic Day parade.
In a statement, the ministry mentioned that apart from the states and union territories, six of the ministries and departments will also display their tableaux.
"Twenty-three tableaux — 17 from states and union territories and six from various ministries and departments — will be displayed, and will depict the nation's rich cultural heritage, economic progress and strong internal and external security," the Defence Ministry said.