The co-founder of Mothers Against Drug Deaths called on President Biden to help her son overcome addiction the way he helped his own son Hunter. 
Jacqui Berlinn told "Fox & Friends First" Tuesday she fears her son may never get clean under the country's current approach to the drug crisis. 
Her organization posted a billboard in Washington, D.C., calling for an end to "government drug sites" – a reference to increasingly popular safe injection sites. Berlinn, the face of the campaign, instead stressed the need for accessible recovery services.
Berlinn's son struggles with fentanyl addiction and lives on the streets of San Francisco, a community currently leaning into and adopting safe injection sites.
FORMER DRUG DEALER SPEAKS OUT AGAINST SAN FRANCISCO DRUG SCENE: IT'S BECOMING A PLACE FOR 'DRUGGY TOURISM'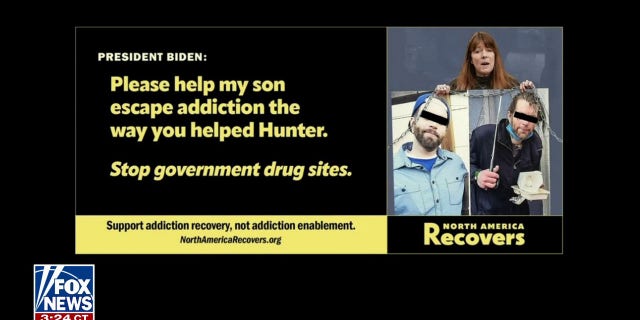 "Unfortunately, we do not have recovery services built out in San Francisco," she told host Todd Piro.
"It's really frustrating to see that there's a disparity between people who have money and don't have money for whether or not they can get treatment for their loved ones for addiction."
She argued that safe injection sites facilitate "addiction maintenance" rather than recovery for addicts. 
Berlinn searched for recovery services for her son, but even she struggled to find help. She said the limited space at treatment and detox centers is not enough for the many more people who need assistance. 
SAN FRANCISCO BAY AREA MOTHER OF FENTANYL USER WARNS CITY IS ENABLING SON'S DRUG USE
"I'm absolutely hoping that [Biden], as a parent who has a son who has struggled with addiction, that he will see what needs to be done in this situation," she said. 
Berlinn called on Biden to do two things: Stop drugs from flowing into America over the southern border and prioritize recovery-oriented care services over safe consumption sites, which she argues are encouraging addiction.
CLICK HERE TO GET THE FOX NEWS APP
As for her son, Berlinn said she doesn't see a path to his sobriety as long as safe injection sites continue to open and "enable" addiction. 
"He tells me he wants to get well. But in the position that he's in right now, he tells me he doesn't see how that can happen," she said. "And honestly, I don't see it either."