Premier Scott Moe says Ottawa has $480 million in carbon tax dollars that it collected from SaskPower.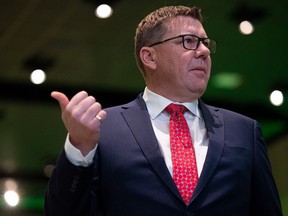 Article content
Premier Scott Moe says he's interested in investing carbon tax money into nuclear technologies should the province obtain hundreds of millions of dollars held by the federal government.
Article content
Moe told reporters this week that nuclear investment is among many potential options, as he strives to secure roughly $480 million in carbon tax dollars that SaskPower paid to the federal government over the past few years.
Article content
Moe said he believes the dollars belong to the province, adding they need to be used on innovative technologies that reduce carbon emissions. The province has been looking into potentially building a small modular nuclear reactor as part of the future power grid.
"Without a significant opportunity for hydro in the province, it would seem to fill some of that gap. But, we ultimately are going to need something like nuclear power to do so," he said.
On Wednesday, Saskatchewan gained full control of carbon pricing for heavy industrial emitters, including SaskPower. It means the carbon tax will remain on people's electricity bills, but the province will now get to decide what it wants to do with that money.
Article content
Moe said the province will have to follow certain parameters on where it can spend SaskPower's carbon taxes, noting no decision has yet been made.
The Saskatchewan government will begin collecting SaskPower carbon taxes in January.
"We need to make responsible decisions with respect to how we are making those investments. But, we also want to do everything that we can to keep power affordable for Saskatchewan residents," Moe said.
He said Saskatchewan needs to move to a lower carbon environment while also attracting investment.
However, he added the federal government has proposed a number of other policies that he believes would hurt Saskatchewan's economy.
These nine environmental policies, which were outlined in his white paper, would require provinces to reduce emissions. In doing so, they would have economic costs.
Article content
While some of the policies haven't been legislated, Moe said Saskatchewan needs to have a plan should they all be enacted.
"We will have to ensure that, as a government, we are preserving that ability to live here and have affordable power into the future. Yes, clean, affordable power," he said. "But we're also preserving that opportunity to attract that investment to create jobs."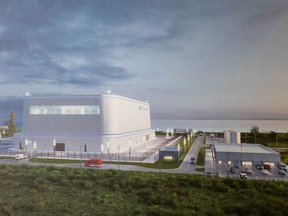 SaskPower proposes Estevan, Elbow areas as potential SMR sites

Moe 'drawing a line' with feds; claims federal policies could cost Sask. $111B by 2035
Even though the province will soon have control over SaskPower carbon taxes, the federal government will continue to have authority over SaskEnergy carbon taxes, Moe said. The same federal carbon tax will also apply on all other fuel purchases.
Article content
These dollars will be sent to Ottawa for its climate plan, though the federal government has said 90 per cent of the taxes are returned to consumers. A family of four in Saskatchewan can expect quarterly climate rebates of about $340.
NDP Leader Carla Beck told reporters on Thursday that her party will be watching to see what the government decides to do with SaskPower's carbon taxes.
She suggested the extra cash should be effective in reducing emissions while also taking into account "the unique economy of Saskatchewan."
Beck acknowledged that using the federally-held cash on nuclear technology is one of the options.
"We want to see a plan that is not behind closed doors," she said. "I think these are huge investments, huge considerations for the future in this province."
Article content
She said power in the future needs to be reliable but also affordable, noting Ontario consumers have seen higher utility rates after that province turned to more renewable energy.
Saskatchewan currently has an Output-Based Performance Standards Program for heavy emitters. They are eligible to receive a credit should their carbon emissions be below the permitted benchmark.
Saskatchewan companies can receive a credit for using carbon capture, utilization and storage methods. Users will have the option to pay into the province's technology fund.
The government has said emitters have the option to purchase credits from other industrial companies or pay into the technology fund.