The Kraft Heinz Company's (NASDAQ:KHC) stock has appreciated just over 10.5% in the last 12 months against a 9% decline for the S&P 500, so it would be fair to say that KHC has lived up to its potential as a recession-proof stock. Consumer staples often come to the spotlight when recession fears surface, and Kraft Heinz has recently attracted investors and analysts. Mizuho Securities recently picked KHC as its top large-cap value pick in the food sector and claimed that the rally in consumer staples may not be over yet. Ever since the leadership change in 2019, I have been a fan of Kraft Heinz and I even made some profits after investing in KHC amid the Covid crash. After evaluating the prospects today, I feel comfortable claiming that Kraft Heinz is no longer a company you should own only during a recession.
Food Consumption In A Recessionary Environment
Empirical evidence suggests Americans change their eating habits during recessions, which is likely to be true for any other region as well. When job losses and a decline in investment income hit the pockets of Americans, people tend to go out for meals less often and resort to preparing meals at home or buying pre-cooked, packaged food. This is usually good news for Kraft Heinz as this is a tailwind for the company's retail business. Back in 2020 when mobility restrictions and health risks forced people to remain indoors, eating at home surged.
Exhibit 1: The rise in at-home eating since Covid

Source: Supermarket News
This development helped Kraft Heinz, which is evident from the stellar revenue growth the company reported in 2020. In 2020, Kraft Heinz's revenue grew 4.84% YoY on the back of a 5% decline in revenue in 2019. The company was struggling to gain momentum when Covid wreaked havoc and tilted the odds in favor of packaged food companies. I am not in the least suggesting that 2020 will repeat all over again in 2023. In fact, 2020 is likely to be a one-off occurrence. The point that I want to establish here is that Kraft Heinz has what it takes to grow amid favorable demand trends for the packaged foods industry.
Exhibit 2: Retail brands gaining market share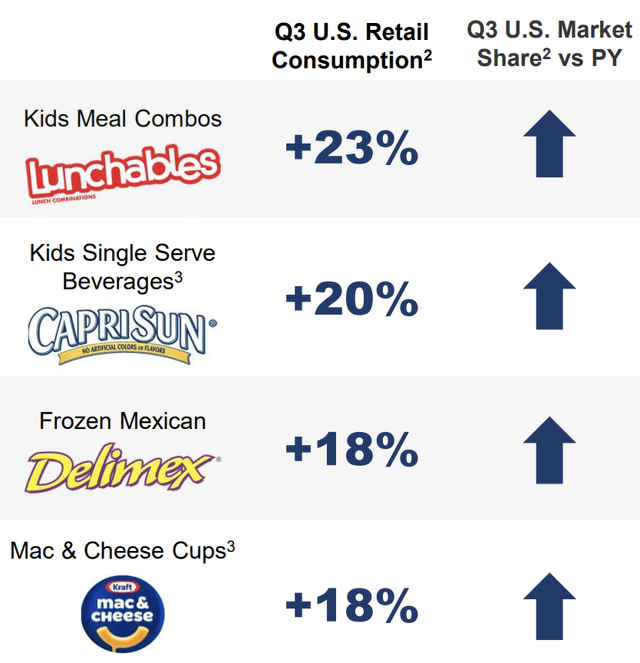 Source: Q3 Business Update
Back in 2008 when the global financial crisis led to record job cuts, Americans showed a preference to prepare food at home. According to a report from the USDA, between 2007 and 2009, spending on food away from home declined by 13%. A 2010 study by Conagra Brands (CAG) found that 71% of survey respondents wanted to save money by preparing food at home even in the post-recession era. Consistent with this study, NPD Group found in November 2013 that about 80% of meals were home-prepared in contrast to 77.4% pre-2008, which highlights the long-lasting effects of the global financial crisis.
Whether the U.S. will enter a recession in 2023 is up for debate. Regardless, macroeconomic challenges seem likely to continue this year, and a resurgence of the at-home eating trend could positively impact Kraft Heinz's revenue.
Encouraging Long-Term-Oriented Decisions
In my previous articles on Kraft Heinz, I discussed how the company fell victim to short-term-oriented business strategies such as slashing the marketing budget to improve short-run profitability. Miguel Patricio, since his appointment as CEO, has turned things around by instilling a growth-oriented mindset among leaders of the company. Today, Kraft Heinz remains focused on growth despite rising inflation, supply-chain challenges, and recession fears.
First, the company is not looking at slashing its marketing budget to inflate earnings. This is an important consideration for me personally as I believe Kraft Heinz should remain long-term focused to execute its turnaround strategy successfully. In 2022, the company activated six marketing campaigns with each earning more than a billion ad impressions. The company not only used traditional media outlets, but also partnered with social media influencers to drive impressions, which is an encouraging sign as the company is keeping its promise to streamline its go-to-market strategy.
Second, Kraft Heinz is focused on product innovation. Operating in a mature business segment, the company will go nowhere without spending on product innovation. Although the company might be late to the party, Kraft Heinz is now leveraging its scale and brand reach to lure customers to its new product categories. The company recently launched Kraft Heinz NotCo in a test market through its joint venture with NotCo. This plant-based American cheese marks the entry of Kraft Heinz into a new business vertical at a time when veganism and alternative meat are rising in popularity. The company is entering multiple new categories including pasta sauce in the UK, and there is a renewed focus on plant-based products to lure a new breed of customers. To appeal to a wider audience, especially the younger generations that find Beanz products irrelevant, the company has launched a new campaign named "Beanz Liberation" to free the beans from the cans. The company launched meatless burgers and mince in the Netherlands that come free of artificial flavors, colors, and preservatives. These innovative product launches coupled with marketing efforts will open up new markets for the company in the long run.
Third, Kraft Heinz is expanding aggressively in global markets, especially emerging markets. With a rising middle-class, many emerging markets offer meaningful growth opportunities for packaged food companies and Kraft Heinz has ramped up investments in its go-to-market strategy to capture this opportunity despite the understanding that a recession will result in meager gains from these investments in the short run.
Fourth, Kraft Heinz is investing to expand its production capacity and efficiency. These capital investments are geared toward increasing the production capacity of high-demand products, factory automation, and digitalization of business processes. These investments should enable the company to adapt to changing consumer preferences in a more flexible way while keeping variable costs limited in the long run.
Takeaway
Investors have given Kraft Heinz a second chance, and the company has grabbed the opportunity with both hands. The company is laser-focused on avoiding the mistakes it committed in the years leading up to the appointment of Miguel Patricio as CEO in 2019. Early decisions taken under the new leadership such as elevating brand spending and investments in innovation are already yielding promising results, and the company seems well-positioned to grow sustainably in the long run. Although many investors view Kraft Heinz as a recession-proof play, I am inclined to consider Kraft Heinz as a top value pick in the market today.