The German economy grew slightly more in the third quarter than suggested by preliminary figures on the back of consumer spending, adding to signs that a recession would not hit as hard as initially feared, data showed yesterday.
Europe's largest economy expanded by 0.4 percent quarter-on-quarter and by 1.3 percent on the year, adjusted for price and calendar effects, the German Federal Statistics Office said.
Analysts polled by Reuters had expected the economy to grow by 0.3 percent on the previous three months and by 1.2 percent annually.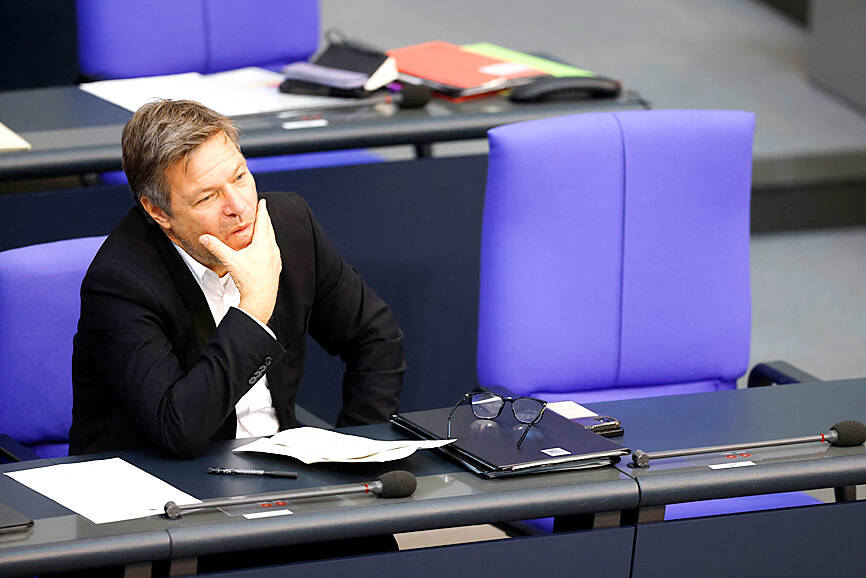 Photo: REUTERS
Household spending was the main reason for the increase, as consumers traveled and went out more after almost all COVID-19 restrictions had been lifted.
"It's by no means a foregone conclusion that the third quarter's GDP growth marks the end of positive growth rates for the time being," VP Bank economist Thomas Gitzel said, adding that the fourth quarter could also be positive.
Among retailers, there has been a notable decrease in pessimism regarding the coming months, the Ifo Institute for Economic Research found.
German retailers have reported that supply problems had eased slightly this month from last month.
A GfK institute survey of consumer sentiment found that the German government's energy relief measures had helped stabilize morale heading into next month, and fears of sharply rising energy prices had weakened.
However, the index is near historically low levels, Union Investment economist Joerg Zeuner said.
Consumers are not yet feeling the pinch of high energy costs, which would only be reflected in next year's heating bills, he added.
The German government predicts that its economy would grow by 1.4 percent this year and contract by 0.4 percent next year.
A Federal Ministry for Economic Affairs and Climate Action spokesperson yesterday said that current indicators continue to point to a recession in the six months through March.
"The preconditions for a mild course of the recession are that no acute gas shortage situation arises, that no difficult COVID developments occur, and that the supply chains continue to stabilize gradually," the spokesperson added.
German consumer confidence has edged up again following a long period of decline, a survey showed yesterday.
The data is the latest indication that concerns are easing about the severity of an approaching downturn.
GfK's forward-looking barometer registered minus-40.2 points for next month, an increase of 1.7 points from this month.
The gauge for this month had also improved slightly, following several months of declines, with a historic low last month.
However, the GfK's latest survey showed that "consumers' long-standing fears about exploding energy prices have eased somewhat." GfK consumer expert Rolf Buerkl said.
Energy prices had stabilized slightly, while consumers also believe that government relief measures could bring prices down, he said.
Despite the "slight improvement," the consumer climate remains difficult, he added.
Berlin has rolled out stimulus measures to help consumers and businesses, including a 200 billion euro (US$208.5 billion) fund to tackle high energy prices.
After months flashing red, indicators and surveys are starting to show a growing belief that the looming recession might not be as bad as first feared.
Comments will be moderated. Keep comments relevant to the article. Remarks containing abusive and obscene language, personal attacks of any kind or promotion will be removed and the user banned. Final decision will be at the discretion of the Taipei Times.