David Smeatham, Head of Innovation at the Office for Nuclear Regulation, discusses how the UK nuclear regulator is working with other organisations around the world to innovate to improve nuclear safety and security.
Nuclear sectors around the world are being called upon to innovate by governments and international bodies.
In recent years in the UK, the industry has been asked to support the government's drive towards net-zero carbon emissions,1, 2 improving energy security in line with last April's British Energy Security Strategy3 at a competitive cost, while maintaining high safety and security standards4 as outlined in the government's Nuclear Sector Deal in 2018.
This is not exclusive to energy supply – there is also a wish for the cost of decommissioning and waste management to be reduced.4 Furthermore, regulators are being urged to enable the appropriate use of new digital technologies.5
In response, nuclear regulators have been looking at their regulatory frameworks to ensure they are fit-for-purpose to enable appropriate innovations. This paper describes the approach being adopted by the Office for Nuclear Regulation (ONR), the UK's nuclear regulator, to help play its part. It also demonstrates how it is embracing new approaches and technologies in how and what we regulate, sharing best practice, and encouraging dialogue by engaging widely with dutyholders to promote awareness and understanding of innovation in the nuclear sector, where it is in the interest of society and consistent with safety and security expectations.6,7,8
What is innovation?
There are many dictionary definitions of innovation. ONR is using the following working definition: 'Innovation is the implementation of new ideas that generate value'.9 These words help to crystallise our thinking around nuclear innovation:
Implementation
We often associate the term innovation with invention. But the terms 'research' and 'development' are also used in this field. Innovation is more than invention; in particular, it includes the practical implementation in response to stakeholder needs.
New
Very little is truly new. Most innovation builds on previous work. This includes crediting work that has gone before from the nuclear sector and from other industry sectors.
Ideas
We sometimes tend to associate innovation with new technology. But it is not just about products. It also includes new ways of working, new services, and new offerings.
Generate value
Innovation must return a value to stakeholders. Otherwise, it is not achieving its true goals.
Successful delivery of innovation in the nuclear industry typically needs a chain of scientists, engineers, managers, assurance gatekeepers, supply chain organisations and nuclear regulators to all agree. We recognise that there are many potential steps which can result in innovation not succeeding. Therefore, there is a need for all in the delivery chain to be open minded to the opportunities that innovative approaches can bring and to work together to ensure it remains in the interest of society and consistent with safety and security expectations.
Benefits of goal-based regulation
In the UK, we have a goal-setting and technology-neutral regulatory framework within the nuclear sector. This provides a non-prescriptive regime which benefits the adoption of innovative technologies and processes. In addition, the UK licensing process is mature, defined and well-regarded.10
An example of this enabling, goal-setting approach is ONR's Generic Design Assessment (GDA). This approach supports the licensing process and helps to provide confidence that the proposed reactor design is capable of being constructed, operated, and decommissioned. Being outcome-focused, ensuring solutions are fit-for-purpose, and undertaking constructive, open, and early engagement to avoid surprises and build trust will all be prominent in our approach to considering innovative methods and solutions to address problems and deliver benefits. We will also continue to take a holistic approach to reducing risks to as low as reasonably practicable (ALARP), as guided in our Licensing Nuclear Installations 2021 document.11
Furthermore, this goal-setting approach provides ONR with flexibility in the way it approaches regulation while maintaining standards, as illustrated in the following case study.
Case study 1: Innovative strategy for regulation of hazard and risk reduction at Sellafield
Goal-setting regulation allowed ONR to implement a new and innovative regulatory strategy to facilitate and encourage hazard and risk remediation at Sellafield, while maintaining adequate safety standards. This strategy was used to identify the key barriers to success, and, by working collaboratively with stakeholders, develop innovative ways of working that led to unparalleled levels of progress in remediation of the legacy storage facilities at the Cumbrian site.
Although this approach was first developed several years ago, it is still used today and attracts positive feedback nationally and internationally. The strategy was based around prioritising activities, removing unnecessary bureaucracy, and distracting unnecessary demands. It led to the development of fit-for-purpose solutions, removed unnecessary complexity, and achieved maximum value in terms of delivery, reliability, and operability.
Collaborative working was at the heart of the success, with six key stakeholders having a shared mission to significantly reduce off-site risk posed by several legacy facilities at site. There was a focus on cultural and behaviour attributes that were hindering prioritisation of projects and activities. These were addressed by identifying a number of specific, short-term activities to illustrate a different mindset and put into practice the themes that had been initially set out in our strategy. Within a matter of months, the successful delivery of projects began to have the desired effect.
Getting the culture right
Nuclear regulatory processes are often cited as a barrier to innovation, with a perception that regulators are naturally risk-averse and reluctant to accept novel techniques or approaches – or that the regulatory processes associated with new technologies must be long and complex.
ONR recognises that some stakeholders have preconceived ideas of what a nuclear regulator will and will not accept. So potential barriers to innovation can exist in several links in the chain of approvals needed to implement innovation. Therefore, the success of an innovation can be limited to its ability to be accepted at each of the links in that chain.
These mindsets can result in the innovation failing due to the process, rather than the benefits of the innovation in question. This can result in the status quo being maintained, limiting the introduction of new and more effective solutions. In some cases, it can even lead to a solution being over-designed or engineered.
ONR wants to promote a culture that encourages early dialogue with the nuclear regulator, allowing it to reaffirm the need for, but also influence the development of, fit-for-purpose solutions that avoid complexity and over-engineering. This is in no way to diminish standards, but rather to illustrate the benefits that can be secured by focusing on those elements that necessitate the highest standard and to avoid a 'nuclear premium' when this is not necessary. In addition, often innovation does not lie neatly within sections of our organisations. So, this early engagement has to be based on honest, 'warts-and-all' discussions about the innovation in question that takes account of diverse views, with stakeholders needing to focus on any drawbacks or challenges as well as the positive aspects of the innovation.
ONR is working with domestic and international organisations, connecting widely across the regulatory community, on how we can improve the consistency of approach, reduce regulatory burden, and achieve common positions on technical matters. Through our established links with many other nuclear regulators across the globe and organisations such as the International Atomic Energy Agency (IAEA), ONR will continue to share ideas and approaches to identify best practices to help support innovation.
Enabling innovation through an innovation hub
ONR's approach to innovation is centred around supporting the adoption of innovative solutions by the nuclear industry and its supply chain, where it is safe and secure to do so.
This includes embracing innovation, new approaches and technologies in how and what we regulate, sharing best practice, and encouraging dialogue by engaging widely to promote awareness and understanding.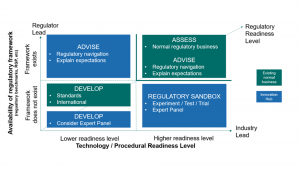 ONR will achieve this through a collaborative work programme, supporting inspectors when they are faced with innovative approaches.
We are open to innovation and, throughout 2022-23, are piloting new products that make innovation possible where it is in the interest of society and is consistent with safety and security expectations. We have developed an approach (Fig. 1) to ensure our arrangements are fit-for-purpose to assess innovation in the future.
The following three approaches are being piloted during 2022/23 and are available to Great Britain licensees, dutyholders and requesting parties and their supply chain companies, where they are supported by the licensee, dutyholders and requesting party. They include:
Expert panels aimed at establishing a roadmap for effective and enabling nuclear regulation for technologies, or ways of working, that are considered novel in the nuclear sector;
Providing advice where innovation is supported by licensees, dutyholders and requesting parties. This includes having early discussions with innovators and licensees to allow ONR to advise on regulatory expectations; and
Regulatory sandboxing – providing a safe space that allows innovators to test and trial new solutions which enables the safe and secure adoption of innovation to the benefit of society.
Collaborative activity in the innovation hub is centred on developing relevant good practice (RGP) (i.e., establishing pragmatic benchmarks to enable robust regulatory decision making). This does not include undertaking a definitive or premature assessment of a specific application of an innovation because of the need for ONR to retain its regulatory independence. To enable this, ONR has put arrangements in place to ensure that individuals who carry out regulatory duties have sufficient independence from those engaged in the collaborative activities associated with the innovation hub.
The following case study provides an example of the activity that is being undertaken in ONR's innovation hub.
Case study 2: Regulation of Artificial Intelligence in nuclear
As part of our pledge to embrace innovation, ONR hosted an expert panel with the Advanced Nuclear Skills and Innovation Campus (ANSIC) to discuss the opportunities for the regulation of Artificial Intelligence (AI) in the nuclear industry. The aim of the expert panel was to establish a roadmap for effective and enabling regulation of AI in the nuclear sector. The panel was made up of experts from nuclear, medicine and healthcare, transport, fusion, national laboratories, and academia. Despite the differences between sectors, we were reassured to see that we all face similar challenges.
The panel discussed the opportunities for AI to be used in the nuclear industry. For example, to simulate behaviour of reactors, inform reactor design, performance, safety, and operation. To this end, having a clear regulatory approach is important.
The collaborative work will continue by taking a selection of examples of the application of AI into ONR's new regulatory sandbox.
Gaining the benefits of innovation and ensuring safety and security expectations are maintained needs honest and 'warts-and-all' discussions which focus on the opportunities from innovation, as well as weaknesses and risks that need to be managed with its application. A collaborative approach which maintains the independence of the regulator is essential.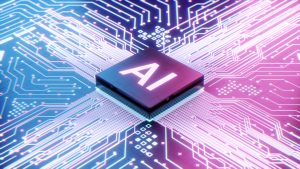 For the year ahead, and beyond, ONR is piloting new approaches to support the appropriate application of innovation in the nuclear sector.
For more on ONR's commitment towards innovation, visit: https://www.onr.org.uk/regulating-innovation.htm or www.onr.org.uk/documents/2020/onr-innovation-report-2020.pdf.
References
The Ten Point Plan for a Green Industrial Revolution, HM Government, November 2020
Energy White Paper; Powering our Net Zero Future, HM Government, December 2020
British Energy Security Strategy, HM Government, April 2022
Industrial Strategy: Nuclear Sector Deal, HM Government, 2018
Regulation for the Fourth Industrial Revolution. HM Government, June 2019
Strategy 2020 – 25, Office for Nuclear Regulation, July 2020
Approach to regulating innovation, Office for Nuclear Regulation, September 2020
Office for Nuclear Regulation website "ONR's approach to regulating innovation". https://www.onr.org.uk/regulating-innovation.htm
Taskforce on innovation, growth and regulatory reform, HM Government, May 2021.
10.Unlocking Reductions in the Construction Costs of Nuclear: A Practical Guide for Stakeholders, OECD/NEA, August 2020
Licensing nuclear installations, Office for Nuclear Regulation, November 2021
David Smeatham
Head of Innovation
Office for Nuclear Regulation
https://www.onr.org.uk/
Please note, this article will also appear in the twelfth edition of our quarterly publication.