"I always attend the Invasion Day rally on January 26, but this year won't be going," Stewart said before the rally.
"It's hard to watch a handful of outliers hijack the rally and attempt to destroy the most significant opportunity we've had to create meaningful structural change at a federal level by fuelling the No campaign against a Voice to parliament.
"They're out of step with the views held by the vast majority of our mob. If they get their way, we'll squander this once-in-a-generation opportunity."
Leading activist Professor Gary Foley, who co-founded Canberra's Aboriginal Tent Embassy in 1972, told protesters in Melbourne they were "in the process of being sold a pup".
"Beware of Blak bourgeoisie trying to sell you a referendum, trying to sell you a shonky proposition called the Voice," he said.
"I want you to think; think before you vote. Make sure that you're not being manoeuvred into a position of being complicit in the latest of a long line of cosmetic bullshit measures that will change nothing in the way of justice [for Aboriginal people]."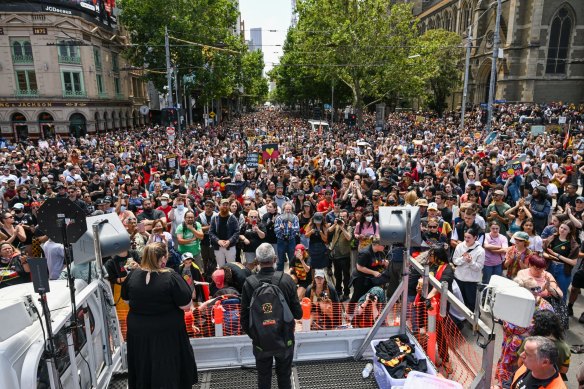 The Uluru Statement from the Heart calls for a Voice to parliament, Treaty and Truth-telling, but opponents have called for a Treaty before Voice.
Victorian Greens senator Lidia Thorpe, who has been a vocal opponent of a Voice to parliament before a Treaty between Aboriginal and non-Aboriginal people, was given a hero's reception at Melbourne's rally.
"This is a war," she told protesters.
"They are still killing us. They are still killing our babies … what do we have to celebrate in our country?"
Thorpe on Wednesday cleared the way for a split with her colleagues on the Indigenous Voice to parliament, in a formal deal that gives her free rein to vote against the proposal while her Greens colleagues give it their support.
She said Aboriginal people should be more than advisers in their own country: "We deserve better."
"They want to put the colonial constitution on top of the oldest constitution on the planet … we are sovereign and this is our land. And we deserve better than an advisory body … we want real power, and we won't settle for anything less."
Loading
Prime Minister Anthony Albanese said Australia would be a more united nation on Australia Day in 2024 if the population voted to recognise Indigenous Australians in the Constitution.
"I'm not going to engage in partisan politics, whether it's Lidia Thorpe or others," Albanese said when asked about the position of Thorpe and her supporters.
"It is something missing from our nation's birth certificate. It's missing from our Constitution. And I say this: if not now, when? If not now, when will this change occur? And if not the people of Australia this year, who will make this change, which will improve our country, improve our national unity?"
With Paul Sakkal
The Morning Edition newsletter is our guide to the day's most important and interesting stories, analysis and insights. Sign up here.