After twenty years of success with the New York Yankees, Derek Jeter retired as one of the greatest ever to play the sport. However, it wasn't his accolades, achievements, and trophies that stood behind his glorious career. It was Jeter's attitude, his spirit and energy in the ballpark, and his incessantly competing nature.
ADVERTISEMENT
Article continues below this ad
However, something else that stood out all throughout his career was his distance from conflict and controversy. And his strength of diplomacy separated him from numerous players.
ADVERTISEMENT
Article continues below this ad
And this attitude of Derek Jeter only continued with time.
Nine years after taking reigns as the Yankees captain, a question was once thrown towards the Pinstripes shortstop about friend Tom Brady. As one would expect, the five-time World Champion provided the Boston Herald with a short, simple, and diplomatic answer.
Diplomatic Derek Jeter simply continues to be himself
In an interview with the Boston Herald in 2012, Jeter spoke about being a Tom Brady fan, and his appreciation for the Michigan-based quarterback. As the interview proceeded, Jeter was asked a question about his quarterback inclination in the Tom Brady vs Drew Henson battle.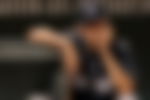 As expected, Jeter continued to display his excessively diplomatic personality and refused to pick any side. He tackled the question with ease and an archetypal Jeter six-word response. The 14-time All-Star, Monument Park, and Hall of Fame member, Derek Jeter, said, "I don't get involved in controversies."
Back in 1996, during his Michigan days, Tom Brady didn't simply get his position in his university team. He had to fight for his quarterback position with Drew Henson. Eventually, though, Brady conquered Henson and started every game in the 1998 and 1999 seasons.
Captain Clutch and Tom Brady's relationship in Tampa
Tom Brady and Derek Jeter have had a long-standing relationship. Similarly, when Brady concluded his 20-year career with the New England Patriots and move to the Tampa Bay Buccaneers in 2020, he shifted into Captain Clutch's luxurious mansion in Tampa.
ADVERTISEMENT
Article continues below this ad
The house covered an area of over 22,000 square feet and consisted of a wine cellar, movie theatre, swimming pool, and a massive garage.
Eventually, citing a lack of privacy, Brady moved out of the house.
ADVERTISEMENT
Article continues below this ad
Watch This Story—The Top-5 Most Electrifying Home Runs By New York Yankees Star Aaron Judge 
Not to forget that, earlier in 2021, Jeter sold his massive palace-like mansion for a whopping $22.5 million.